Godaiko Jodokai
Five Great Lakes Jodo Association
The Godaiko Jodokai practices Shindo Muso Ryu as taught by Kaminoda Tsunemori Sensei, including training in the koryu arts of Shindo Muso Ryu Jodo, Kasumi Shinto Ryu Kenjutsu, Isshin Ryu Kusarigamajutsu, Ikkaku Ryu Juttejutsu, and Uchida Ryu Tanjojutsu.
The Godaiko Jodokai was established in 2006 by a group of Kaminoda Sensei's students based in Wisconsin. The name was selected in consultation with Kaminoda Sensei and senior instructors of the Nihon Jodokai to reflect the goal of spreading these traditional arts in the Midwest.
The founding members of the Godaiko Jodokai began training with Kaminoda Sensei and the instructors and students of the Nihon Jodokai in the mid-1990s. There are not enough words to express our appreciation for our friends in Japan, and especially our gratitude to Kaminoda Sensei for all that he shared over the years.
Originally drawn from senior students in the Kempo-Goju Karate Association, the membership of the Godaiko Jodokai is open to students from all martial arts backgrounds as well as those without any prior martial arts experience.
The programs of the Godaiko Jodokai are offered by the Kempo-Goju Karate Fudoshin Dojo LLC, at our training location in the facilities of TNT Performance (12975 W Townsend St, Brookfield WI).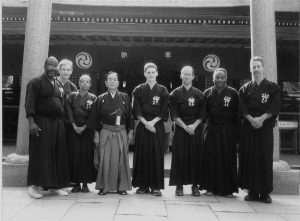 Members of the Godaiko Jodokai travel to Japan for gasshuku/training camps, and host and participate in annual North America gasshuku in cooperation with other groups who practice Shindo Muso Ryu in the tradition of Kaminoda Sensei.
Nihon Jodokai 40th Anniversary Banquet, August 2018
2017 Shindo Muso Ryu Summer Seminar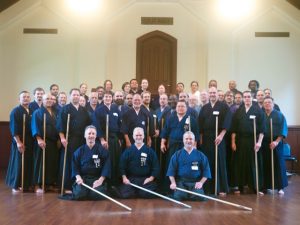 International Friendship Taikai and Gasshuku, Kashima, Japan 2006

Friendship Jodo Training Seminar, Milwaukee WI 2007
Godaiko Jodokai: Five Great Lakes Jodo Association
Copyright © 2019 Kempo-Goju Karate Fudoshin Dojo LLC